My niece Marsha had a favourite but forgotten faux wrap dress a la Diane von Ferstenberg that languished in her closet because it felt dated.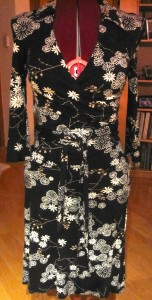 I removed collar and belt, then shortened the hem. I then appliquéd in green linen a flower from hem to shoulder, and a matching flower on the back.
Result: a flirty unique recouture that Marsha loves.