I have a thing for furs. So I add them to interesting things to make them fascinating things.
This cream sweater was languishing in a consignment store, and I saw potential in its bland presentation. I added a vintage button and fur cuffs, and now it gets out plenty.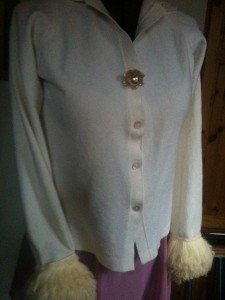 This is a vintage coat to which I added mink trim.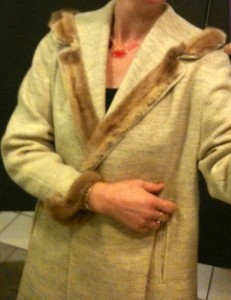 This is a mohair jacket I picked up at a vintage shop on which I sewed mink trim.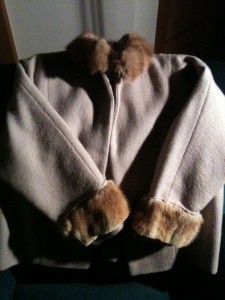 These are vintage gloves to which I sewed white rabbit.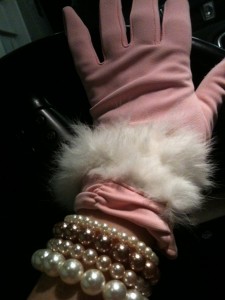 This is a grey fox full-length coat – I cut off the sleeves and made it a vest that I wear around the house – on this occasion I wore it to work on my birthday.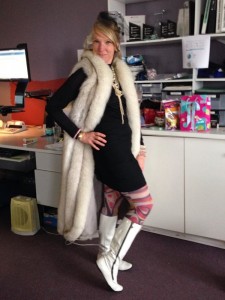 With the sleeves, I made fascinators,clutches, and wraps for we trio of friends.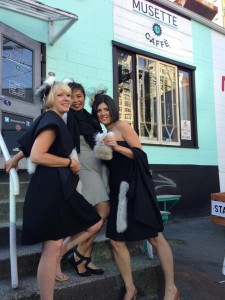 I scored a gorgeous burgundy curly rabbit vest to which I added organza sleeves.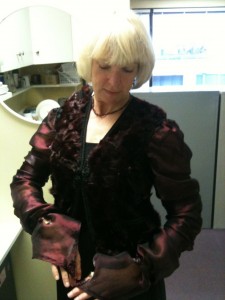 At the same shop I picked up a harlequin design rabbit vest which I shortened, then added the cut hem to the sleeve edges. I made a collar and sleeves from brown velvet. I wore it to New York Fashion week in 2015, here with my friend Sue.
For our outside bed, I made a fur throw made from many coats which Jeannie enjoyed on a recent visit.