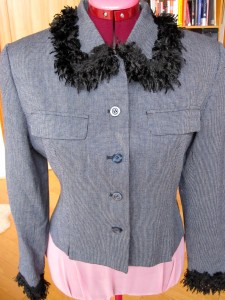 I've done a number of quick recoutures to jazz up the dullards in my closet.
This jacket came with a long skirt that was a deal, but after a few years I tired of the conservative look. I gave the skirt away, and added black fluff to the collar and cuffs. Now I love wearing this.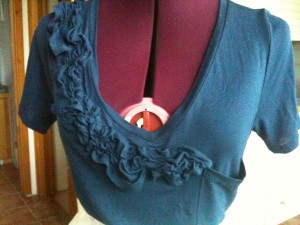 I needed a navy top for a yachting event. I picked up the Joe Fresh tee for $10, cut the hem and made it into an asymmetrical trim from shoulder to pocket.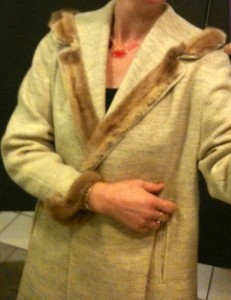 This vintage spring coat had a lovely cut but was too monotonous. I added mink trim to the shawl collar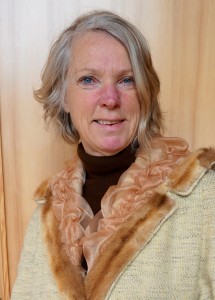 and cuffs. I wore it for a few years but it still didn't excite me. I found an organza scarf languishing in my closet that I had made a few years ago. I ruched the scarf onto the shawl collar, and voila.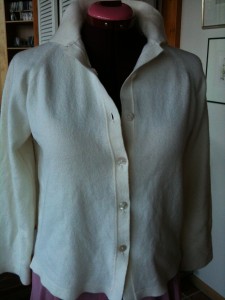 This wool sweater was $5 in a Victoria vintage shop. I added a vintage button and fur cuffs.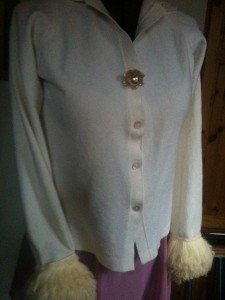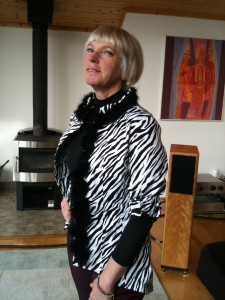 Also from the Victoria shop was this zebra jacket. I reshaped the hem and added a feather boa as trim.
My friend MC gave me this bamboo dress, which was perfect for my work-at-home days, but it needed some fun which I found in my button box.
This periwinkle top was chosen for me by my friend Lorna. The colour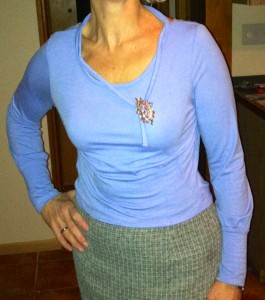 was great for my new pallet focus on blues, but the cut was all wrong with its bat wings and tie-back. I cropped it, re-shaped the sleeve, and sewed down the straps at the back while bringing the strap-ends to the front as a feature I finished with a brooch.