I scored this Anne Klein suit for $80 at a consignment store. I liked the Chanel-style fabric and finishes, but the fit was for a bustier woman with a wider waist, the profile was bulky, and the skirt was too long.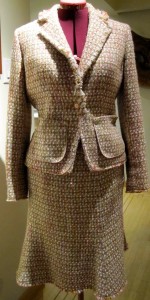 It languished in my closet because on the two occasions I wore it, I didn't feel at my best.
I re-fit the loose skirt by taking it in a few inches, and I shortened it by raising the waistline as I narrowed it. I slimmed the profile by removing the self-fabric facing.
I re-fit the jacket by first removing the shoulder pads and pockets, then I creating 6 pleats in front, two in back, 3 on each sleeve edge and one along the upper sleeve.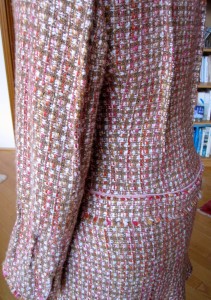 I shortened the jacket by cutting off the lower 4 inches and re-attaching a two-inch trim along with some pink piping, and I added a curved the line at the back.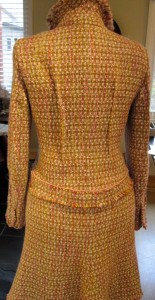 To finish the new look, Tina offered a vintage button.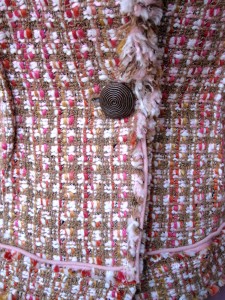 Now I have a suit I'll feel terrific in.