I bought a blush pink pullover for suits, thinking this would blend with anything and be flattering. Sadly, it was so wan a colour that it drained my complexion. After seeing the world once, it languished in the closet because it was boring.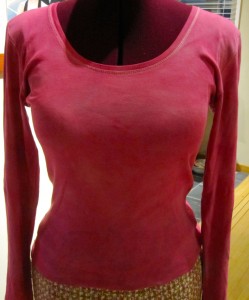 I needed a pink top, so I dyed the blush to rose. Now it gave me a glow, but didn't have much to say.
I acquired some scraps of iridescent silk from a project my friend Jeannie was refashioning, pinked the edges and zigzagged them in a flash pattern that is a secret under a blazer but a statement when uncovered.