Beauty, and who is the Beast?
Jellyfish are infinitely beautiful and adaptable. When waters become too acidic from pollutants and most other sea life disappears, the jelly fish thrives.  Who is to blame for our filthy waters?
My jellyfish dress was inspired by a CBC radio broadcast about the scourge of jellyfish in polluted harbours and oceans. In a harbour in Japan, unwitting fishermen hauled tons of the jellyfish onto the boat decks to chop them to death. But this didn't kill them, it caused a frenzy of reproduction.  The resulting slurry, dumped into the sea, compounded  the overpopulation.
Other oceans and seas are also experiencing an over abundance and annoyance of jellyfish blooms. Resorts along  the Mediterranean Sea are overrun with stinging jellies, some species of which are new to the waters, brought in by shipping vessels. They are beautiful, and beastly.
The underdress of my jellyfish is my well-loved BCBGmaxazria sundress which has enjoyed many sun-filled days above sea level and now it heads below sea level, transformed into a glowing jellyfish.  Most of the piece was hand worked and stitched.
Tentacles are fabric strips ripped across the warp – no machine sewing required!  Using various textured wools, I hand-stitched the rippling jelly-like tentacles and relied on the thick wool to kee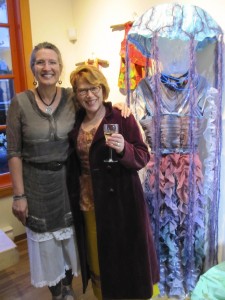 p the fabric in place.  The bodice was machine sewn. Its turquoise edges were the selvages of the fabric – I had to use them!
The challenge was making a light-weight dome that had structural integrity. Tissue mâché atop a mesh fabric worked well and allowed light from the blue glow-wire to shine through. A weighty silky yarn, not prone to tangling, made for good long tendrils from the dome.
Colour was another important consideration, in addition to texture. I wanted the colours to reflect what we see in our BC waters: purple sea stars, pink nudibranchs, green kelp and silvery fish.
Jellyfish are 95% water, and have no brains.   Scientists are trying to find ways of using the jellyfish tissue to produce water absorbing compounds which could be used in diapers and tampons, for example.  One wonders about the balance of nature as a balancing act.