Oceanic Vomit
For Bowen Island Art Council's Wearable Art Show, March 2015, I started not with an concept but with a cutwork tablecloth I've been wanting to refashion.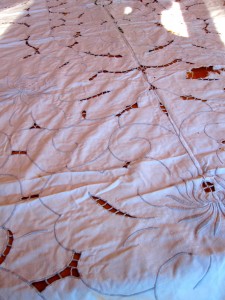 I imagined a lovely green colour bled with blue, and played with dye until I had an effect I liked. Now… what to fashion…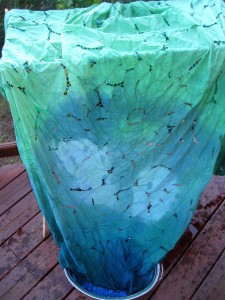 I began with the idea of lettuce, since the pattern was leaf-like and the colour was salad-like, but after a month of fretting without inspiration, I almost gave up. Then, I was inspired by my friend and co-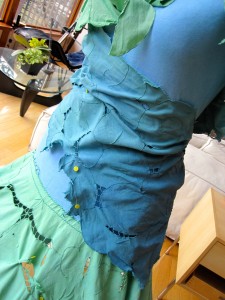 recouture partner Kristina Wilting's Jellyfish wearable art entry. Her concern for the ocean, and her use of sea colours led me to create a companion piece. My concept is a water spout, spewing up plastics we have polluted the oceans with.
A study published in February 2015 that estimated 5 to 13 million metric tons of plastic litter enters the world's oceans every year. That's equivalent to five plastic grocery bags filled with plastics for every foot of coastline. Plastic does not biodegrade, it simply accumulates — year after year. Only about 1% of the plastic estimated to reside in the oceans has been accounted for by the five major floating garbage patches, according to another st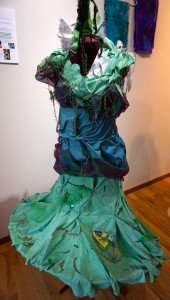 udy published last year.
I created a hoop from the ribs of a deconstructed umbrella which forms the ocean surface whirl, rising up and twisting with the blue fabric, and with green and purple swirling sea foam, to crest in whitecaps of stiffened lace.
The seaweed is pulled yarn from a vintage blouse. 
Kristina added the finishing touches of plastic debris commonly found floating in garbage patches in our oceans. Her Jellyfish creation is to the left of my creation.