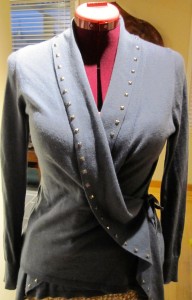 My colleague Janet pulled a loved and languished sweater from her closet, with hopes for a recouture that would offer a better hang. She loves the colour and feel, but doesn't like the awkward drape or tight wrap.
I tacked down the collar at the back to keep it from rolling, created puckered ruches on both sides, leaving one side to hang its full length but with a narrowed fold-over which I sewed down for stability.
I removed all three ties, sewed up the pass-through wrap-around hole, and used one of the ties to create a button-loop. Tina gave me the perfect blue button, affixed to the less ruched side.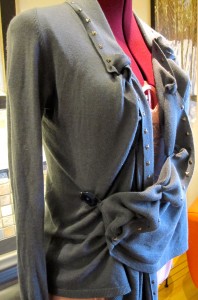 The result – an elegant hang-tight sweater recoutured.