Experiencing New York Fashion Week was a dream I didn't think I'd wake to see.
I imagined it, yes; but being in the company of Anna Wintour, Grayden Carter, designers, models, and celebs at the cat-walk was restricted to monthly immersion in Vanity Fair and Vogue. Yet, with encouragement from my friends and loved ones, I made it happen.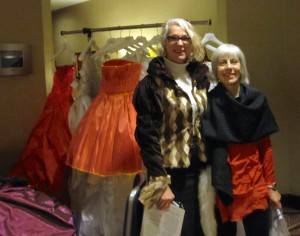 A few weeks ago, my friend Sue and I packed our most notable pieces that would fit in our carry-ons and withstand  the sub-zero NYC clime, and caught the cat-walk. I pinched myself through two fashion shows and needling our way backstage.
Besides the excitement of MOMA, the Met, Studio 54, and Saks 5th Avenue, I
was thrilled by the compliments my outfits garnered by many New Yorkers; the crowning comments were from the Alexander McQueen rep who admired my Gwen Stefani's Lamb design, and the photographer backstage who admired my own creation then took this shot.
Being at NYFW inspired me with confidence in my own talent for defining beloved and forgotten pieces. Watch for this inspiration that I got a close-up look at on the model, to appear on something soon.